Chaperone A Field Trip for Teachers in 11 Simple Snaps
My mom, the owner and director of an accelerated preschool and Kindergarten program, is the Sacagawea of scholastic field trips.
She corrals herds of children and their parents through corn mazes, pumpkin patches, and even post offices without breaking a sweat, but her pioneer prowess drops off at the perimeter of a playground.
"Which subway can we take to get from Penn Station to Times Square? It's supposed to Pour. There's no way we'll be able to trek six blocks to the theater and six back."
"What time is the train home?"
"Where will we eat?? Should I call to make a reservation at Carmine's?"
"You know what? I'll have Debby hail a taxi to get us back.
She's tall. They'll see her in the rain. "
"What shoes should I wear?"
"...mia? Mia??"
"MIA?! are you listening TO ME!?!"
I've had chronic indigestion for the past three weeks listening to mom's stress streams of consciousness over a half-day trip to New York City with teachers from her school to see Application Pending, a one-woman comedy written and directed by Andy Samberg about the trials and tribulations of private preschool admissions.
How self-serving.
Thoroughly unqualified to inherit any business involving children, I volunteered myself as tribute to organize and chaperone this educational experience as our family's designated NYC Ambassador a la Taylor Swift.
Our day would begin with a train into Penn Station followed by lunch at Mercato, a Yelped-about rustic Italian joint before I led the ladies to their spectacular so Off-Broadway that its venue is literally a church.
The itinerary flowed seamlessly barring a minor parking meter snafu salvaged by a guardian angel disguised as Saint Patty's bar crawler in a giant foam leprechaun hat.
As the worst resident Lifestyle Amateur who misuses social media on all accounts, making captions the focus of my Instagrams and editing Snapchat footage into full-length cooking shows, I once again disrespected the vanishing intentions of the app by assembling:
your comprehensive guide to chaperoning An Adult Field Trip
in 11 Simple Snaps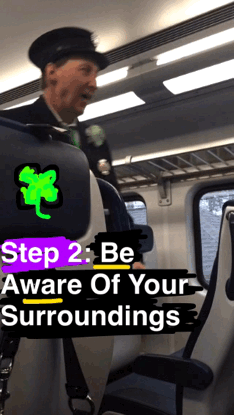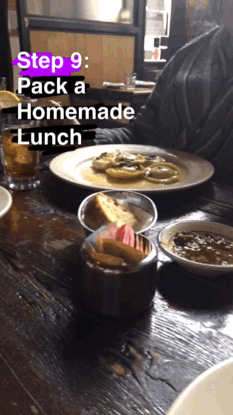 STEP 1: DRESS APPROPRIATELY
Choose a mommy-approved #OOTD with shorts that cover your 'Lucky Charms', and stockings that will keep you warm--preferably a pair not made of mesh.
STEP 2: BE AWARE OF YOUR SURROUNDINGS
Stay safe on public transit by staying alert and protective of all personal belongings in the event of a firefighter flashmob emerging when you least expect it.
STEP 3: CONFISCATE ELECTRONIC DEVICES
Engage in meaningful conversation with your peers rather than staring at your phone, especially if they can barely send a picture message unassisted.*
*Chaperones and/or Lifestyle Amateurs exempt
STEP 4: ASSESS THE EDUCATIONAL IMPACT OF YOUR EXPERIENCE
Trade commercialized experiences for an adventure off the beaten path that will shed new light on cultural diversity.

I mean, you could just go bumble around Times Square for the same effect, but what person in their right mind would self-inflict such masochistic torture?
STEP 5: 'GO' BEFORE YOU GO
Make a pit stop before embarking on your journey unless you have a teacher's bladder of steel, in which case, you'll probably be fine for another twelve to seventy-two hours.
STEP 6: DO A HEAD COUNT OFTEN
I'm a proponent of the phrase, "All who wander are not lost", but scheming shysters with hidden agendas need to be manually kept in line. (I'm looking at you, Deb.)
STEP 7: LEARN NEW LANGUAGES
Order incomprehensible dishes like homemade Fettuccine ai Funghi and eat the entire bowl because it's oily and al dente and delicious and OKAY. It's settled. I'm making some this week.
STEP 8: ENDORSE HEALTHY LIVING
Smoking's bad, no hope in dope, etc., etc.
By the way... Did I mention our charcuterie board appetizer? There was this soft cheese involved that tasted like how Kate Middleton must feel when she remembers that she's Kate Middleton.
STEP 9: PACK A HOMEMADE LUNCH
THERE WAS ALSO PANNA COTTA WITH BALSAMIC DRIZZLE.
BALSAMIC. DRIZZLE. *Falls on the floor.*
STEP 10: ANATOMY LESSONS ARE ESSENTIAL
Balls (of ricotta cheese) are just a fact of life, especially when they're deep-fried and served over a sweet strawberry sauce.
STEP 11: Don't 4Get 2 B A Kid
So sue me. I went to the Times Square Toys R Us to meet up with my favorite import from Seattle since Starbucks, Aisha, who was also playing tour guide for her visiting sister, Kaitlyn.
We romped around the giant Barbie house, took a selfie with the ferris wheel, then braved the Forever21 next door to try on lots of hats and definitely acquire head lice.
It's fun to turn the teaching tables, enlightening experienced women on how to cook butter and sage sauce, or planning the most central location to call home base, but it's important to remember that there's always something new to be learned.
Bea explained her traditional fillings of Hamentashen. Debby taught me how to give great hugs. Aisha is my living reminder to let the kid inside come out and play.
Put up the *silent coyte* every so often and allow yourself to be a student, letting others lead you on a field trip outside your cubbyhole of comfort.
To watch future amateur adventures go down in real time, be my bro on Snapchat (username: TheOliveEye) or point your camera at this floaty dude on my right while the app is open on your phone.
ANALYZE & DISCUSS:
If Toys *R* Us, r we toys or are we human?
is there a difference? has jaden smith already tweeted about this?
...I feel like he has.