The Lards Took Ohio
I sit here in the back of our car eating a deconstructed peanut butter and jelly sandwich (i.e. peanut butter Ritz cracker packs and a plum) on the third hour of our family's return to Jersey. This weekend, the Lardiere's took a trip to Cleveland, Ohio for the wedding of our cousin "Fuzz". His name is not actually "Fuzz", but this is the nickname that has stuck a result of an observation that my father made was he was baby. Flying to Ohio felt excessive, so here we are, penetrating Pennsylvania from behind as Steve recounts the history of Route 80.
Our journey began promptly(ish) at 7 in the morning on Friday, September 25. Riding high on the adrenaline of interviewing Kerry Washington with only mild traces of vomit remaining in my esophagus, I was the first to arise and the last out the door. I made hard boiled eggs for the car, which was a terrible idea considering that their stench turned our vehicle into a fart Dutch oven.
Thirty minutes into the drive we came to the realization that Steve had forgotten to zipper up his fly.
Our first rest stop was at a McDonalds in a town just outside of West Bumblefuck, USA where Mom's Dutch Kitchen is a fine dining experience. We settled our bladders, ordered coffee, and dad tagged on a sausage burrito "for energy" as the designated driver. The second stop to change drivers was in the heart of Bumblefuck, landmarked by yet another barnyard-themed restaurant. I fear that I might have contracted HPV from the "clean" restrooms at this particular express gas station.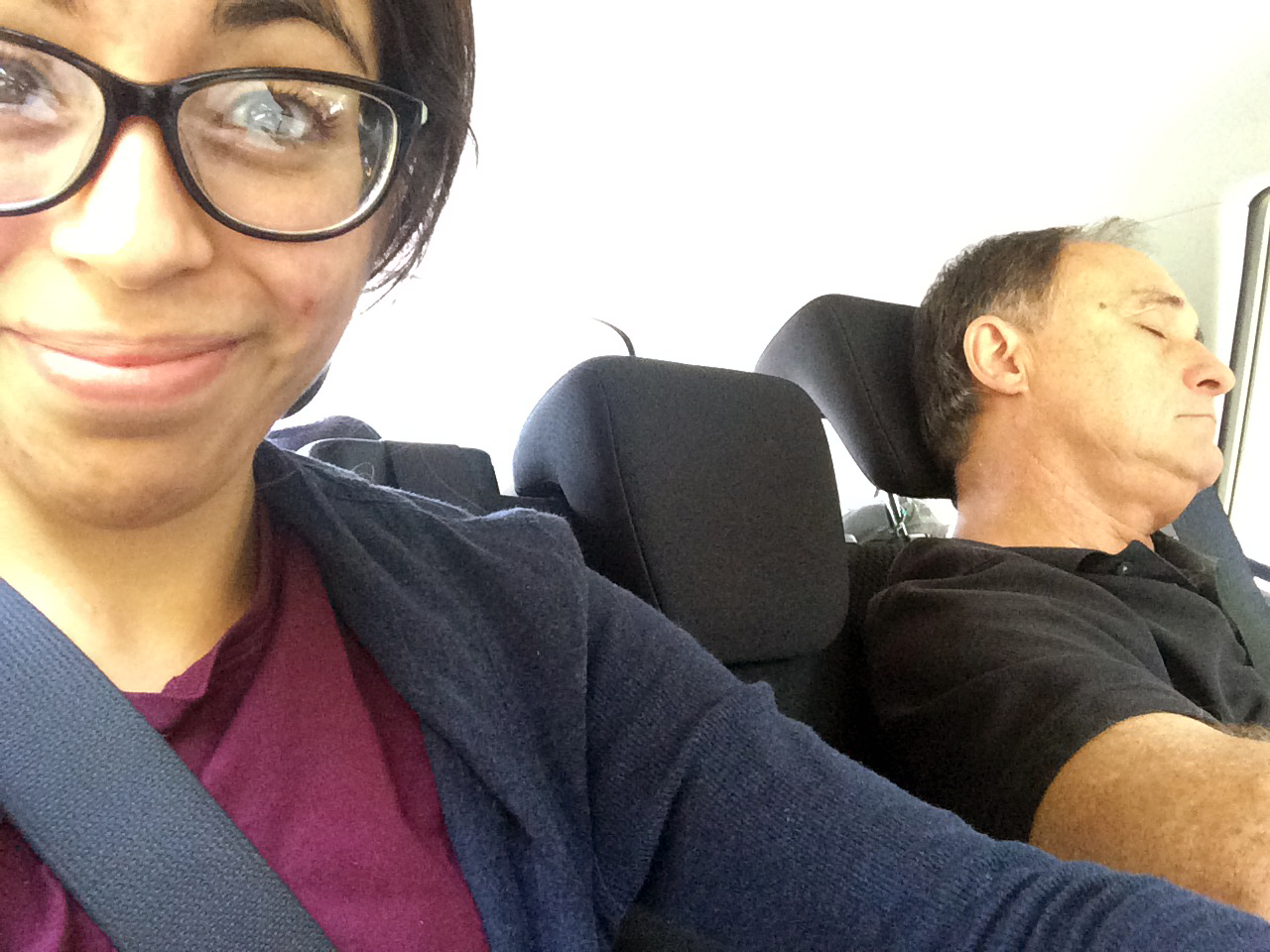 Six hours later, we made it to Cleveland: The Land of Drew Carey and the Home of the Brave.
The hotel in which we stayed could be described as a live-in nightclub from New York City's Meatpacking District with less Forever 21 apparel but significantly more fedoras. Our room had giant balls, zebra pillows, faux wood grain armoires, and a fake fireplace whose presence was, at most, lukewarm.
Did I mention that this hotel is owned by a professional athlete? Do you now see what I see?
That evening we went to the rehearsal dinner and continued to the rooftop lounge where I took two puffs of a cigar before remembering that I had forgotten to remove my Invisalign.
The next morning, we went to breakfast before hitting the Rock & Roll Hall of Fame where I got a quinoa bowl that featured a sunny-side up egg and Machengo cheese. The museum was pretty cool. I got to see a few of Beyoncé's costumes and portraits of Madonna, but the real highlight of the day (besides the wedding) was the West Side Market.
Whisked away in her first Über, my mother and I separated from the pack to visit this food market in the downtown area to check out the scene. Sorry, Madonna, but calves heads, blueberry sausage, and Christmas ale bacon are a little more up my alley. We picked up fresh-made crêpes for lunch; mom got one with ham and emmenthal and I picked one with egg, spinach, artichokes, sundried tomatoes, and Sriracha for a little kick.
Crêpes remind me of leftover pizza that you could find folded-over at the bottom of a garbage disposal. Like I enjoy them, but why do I have to work so hard to get to the center of this cone of delight?
The wedding was great. The bride looked gorgeous. Fuzz was happy and our hearts exploded.
This is a summation of my overall experience:
One thing that I realized is that my mom loves to tell people that I make espresso every morning (I don't). I wonder if this false assertion is an attempt to make me appear more cultured or whether she is trying to momage my brand as the poster child of beverage pretension.
ANALYZE & DISCUSS:
Do crêpes also remind you of enlarged female anatomy?