Eggs En Route
If I had to wake up every morning for the rest of my life to a carton of eggs gazing into my olive eyes (of course, from the opposite side of my body pillow), my dreams would be actualized despite the sound of my mother's muffled sobs into a baby onesie, trying to pinpoint exactly when my appeal to the opposite sex disintegrated into thin air.
Stop here and take it for what you will, or, allow me to explain.
I love eggs! I love eggs more than Amanda Bynes' dear friend Debbie, which says enough about the resilience of my mental stability on its own. If stabbed in the heart, my coronary cavity would run yellow like the pierced heart of a perfect egg poached atop of an english muffin, crisp out of the toaster. However, this love affair has become strained ever since I joined the commuter community wherein black coffee is considered a whole food.
If I've learned anything from Nora Ephron films, it's that Meryl Streep has the ability to transition from conflicted matron to the object of Alec Baldwin's carnal desire with a change of palazzo pants, and that strained relationships have a chance at survival if only you give them a try. So, without further ado, welcome to the emotional rollercoaster that is my egg breakfast en route.
Trial One: Scrambled Eggs with Hummus in a Bell Pepper Bowl
Sometimes you land among the stars when you fail at shooting for the moon, but in all other cases, you will most definitely fall flat on your face.
On my first commute, I schmeared mediterranean hummus and tomato slices at the bottom of a green bell pepper, threw two scrambled eggs on top, and garnished it all with parsley, salt, pepper, and a light dusting of paprika. I wrapped the blob up into tin foil and proudly toted my masterpiece of naïveté/idiocy onto the train at the crack of dawn.
Not only did the moisture of the now-steaming pepper leak all over my seat, but I felt like the weird kid whose mom packed them goulash on the first day of school among a cafeteria ham and cheese sandwiches (except, I was my own mom). This first shot at transitory eggs would have been as delightful to eat as it appears on paper if only the conductor had presented me with silverware, a table and a plate upon our departure.
*All ratings are based on a scale of carefully chosen Emojis.
Taste: 👅👅👅
Portability: 🚂
Likelihood of Trying Again: 💁💁💁— Because insanity is an endearing quality among millennials.
Trial Two: Hard Boiled Eggs Z'Herbs
Hard boiled eggs! How portable you are. How difficult you are to fuck up. However, your bland taste and texture make me feel as though I am a Fear Factor contestant challenged to eat raw eyeballs for breakfast.
I spruced up my two hard boiled blobs by rolling them in chopped parsley, mint, oregano, pepper, and lemon chile salt that I acquired in the duty free shop of Flexico Mexico when they were still a little bit warm, fresh out of the pot. Once cooled, I let them chill in the fridge overnight to absorb all of the flavors—though this may or may not have been a misstep as I would learn the next morning.
Though the herby eggs were flavorful, refreshing, and provided the sensation of a breath mint working in reverse, the salt ended up brining the eggs, leaving condensation at the bottom of my plastic bag. Still, they were transpo-friendly and have probably been my favorite egg iteration to date.
Taste: 👅👅👅👅
Portability: 🚂🚂🚂🚂 — Might try using a different container. Any suggestions?
Likelihood of Trying Again: 💁💁💁💁💁— Except I want to try rolling the herbed eggs in the salt just before leaving the morning to avoid a case of the egg sweats.
Trial Three: Hummus Deviled Eggs
Traditional deviled eggs cause me to vomit more violently than a high school freshman after their first Four Loko, but when hummus is substituted for mayonnaise the concept is mildly tolerable. Take a hard boiled egg, split it in half, scoop out the yolk, and replace with big globs of chickpea goop. Only a few cranks of black pepper were needed since the hummus was salted already. I even went as far as to garnish the center with a basil leaf to inspire an audience of no one.
Taste: 👅👅👅👅— Suggested pairing: Garlic hummus with unnecessary basil garnish
Portability: 🚂🚂🚂🚂 — Just as easy to carry as hard boiled eggs, but the split down the middle caused the two halves slide on one another in a messy demonstration of Newton's Law.
Likelihood of Trying Again: 💁💁💁💁💁 — With any other toppings that do not list mayonnaise as an active ingredient.
Trial Four: Egg Foo Wrong
Remember what I said about shooting for the stars? Well, this could-have-been masterpiece was an intergalactic belly flop.
Sue me for waking up with a craving for fried rice (Note: Not worth your time—I have no money) but I did, so I materialized these dreams into existence. I took leftover rice from Chinese takeout, added any other vegetables in the fridge, and threw two eggs on top.
My ascent to the celestial bodies thus plummeted when I realized that I had forgotten to pack a fork.
I panicked, rifling through my bag thrice, finally settling on a baby carrot as an ample utensil. Two things that you should know about carrot sporks are that their rounded bottoms are the exact opposite of prongs and that grains of rice do not magically balance on the tip no matter how sweetly you whisper to them.
So there I sat, propelled backward into the concrete jungle where dreams are apparently made of, eating egg fried rice with my bare hands.
Taste: 👅👅— I used a stupid microwave soufflé contraption to make my eggs and they came out like a watery hockey puck.
Portability: n/a - I am a masochist.
Likelihood of Trying Again: 💁💁— But with a fork. See Trial One for rationale.
Trial Five: Poached Egg Burrito
Inspired by Giada De Laurentiis' Egg and Kale Breakfast Wraps, I decided to give this puppy a try. I ~massaged~ some kale, added tomatoes, salt and pepper, and a poached egg with a schmear of garlic hummus.
It was good! In fact, pretty foolproof. The hummus and egg caused a little bit of leakage but we can only ask of glowing mediocrity from a 7 AM breakfast.
Oh, and I also realized that yolk caked onto my face two hours into my work day. I may have had literal egg on my face but figuratively, I possessed no shame at all.
Taste: 👅👅👅👅
Portability: 🚂🚂🚂🚂
Likelihood of Trying Again: 💁💁💁💁💁— But with aspirations of thinking outside of the wrap.
Ah, and before you go, here are two more commuter haikus.
*Please be considerate of others if you decide to penetrate your laptop on the quiet car.*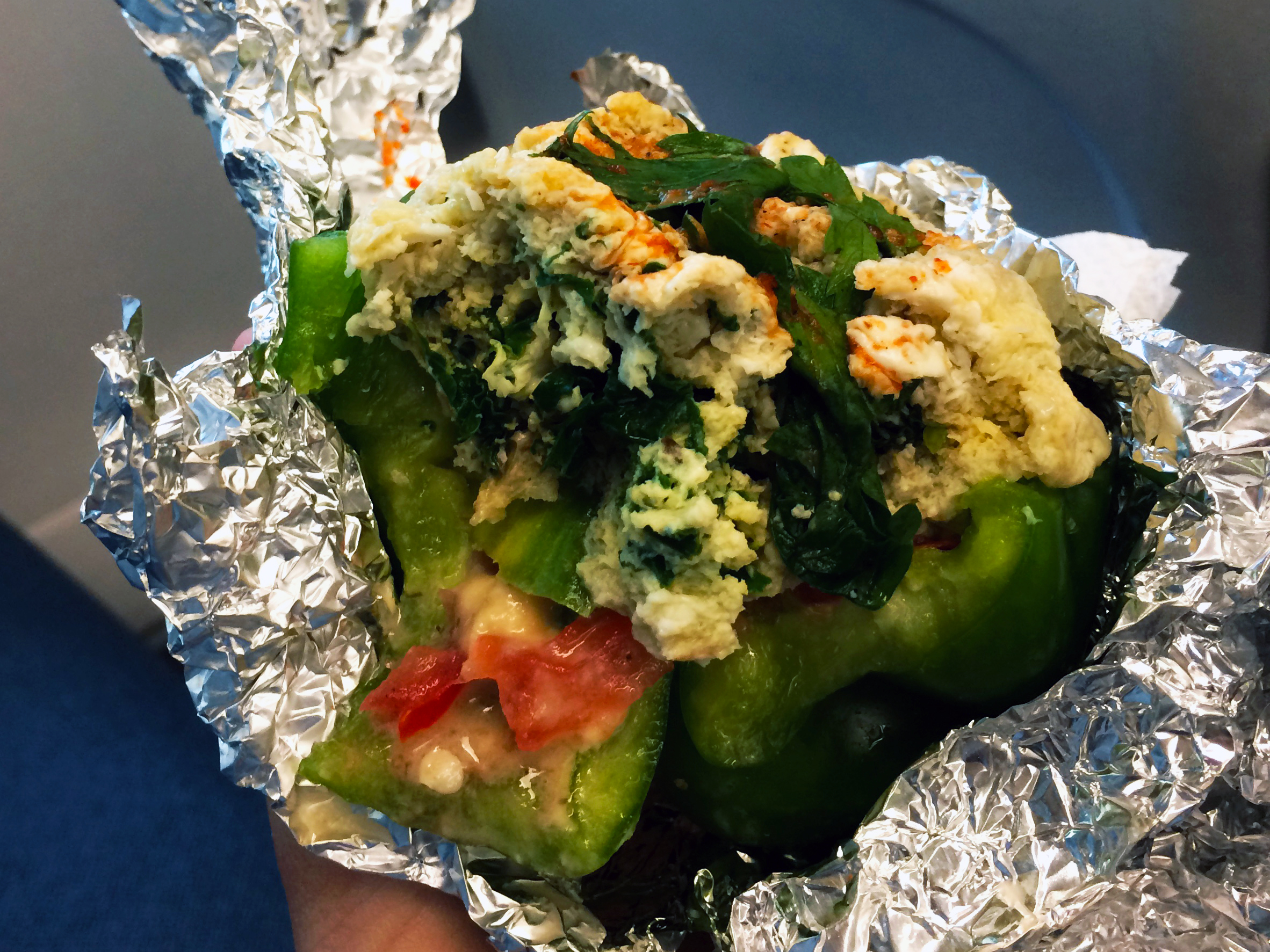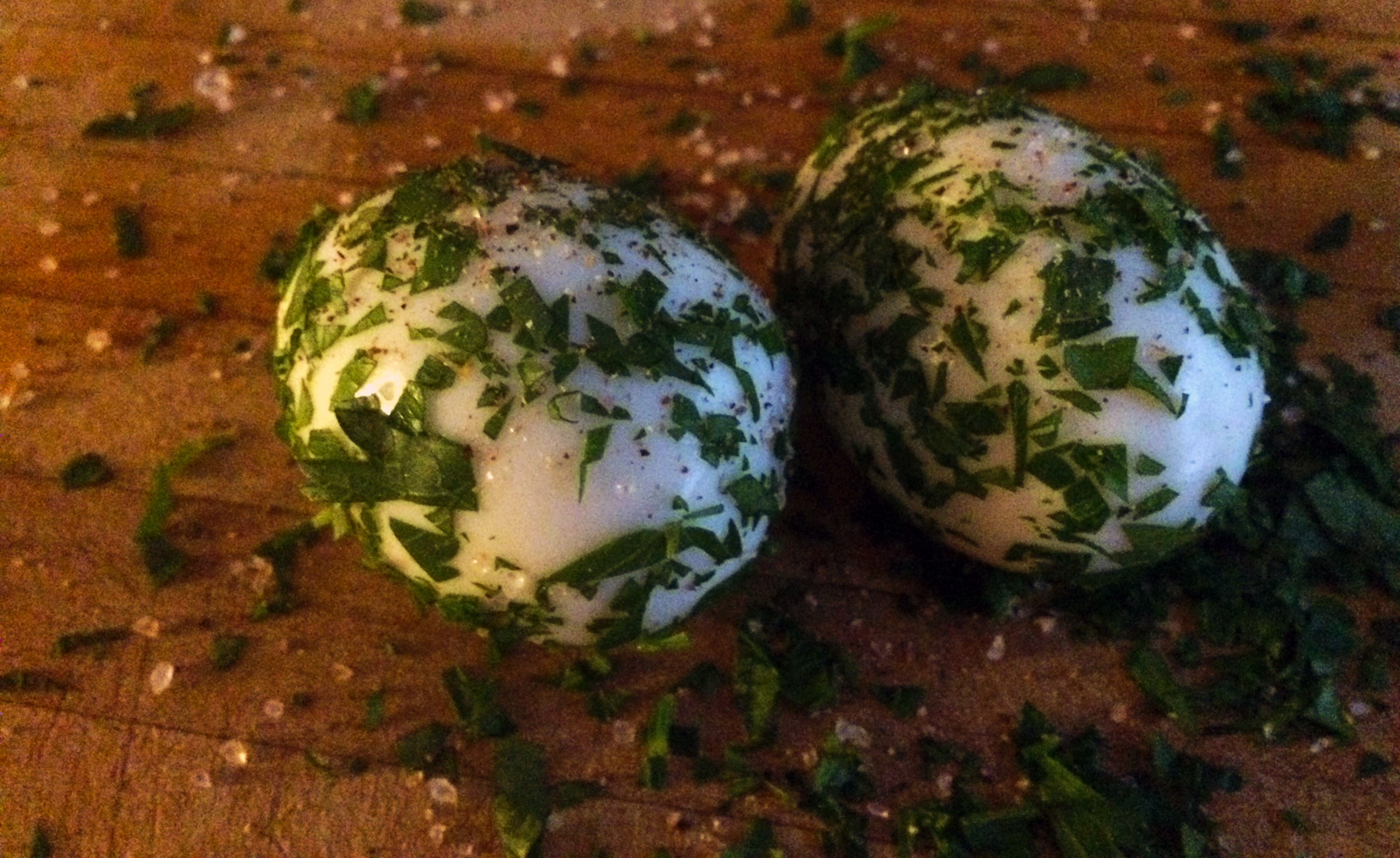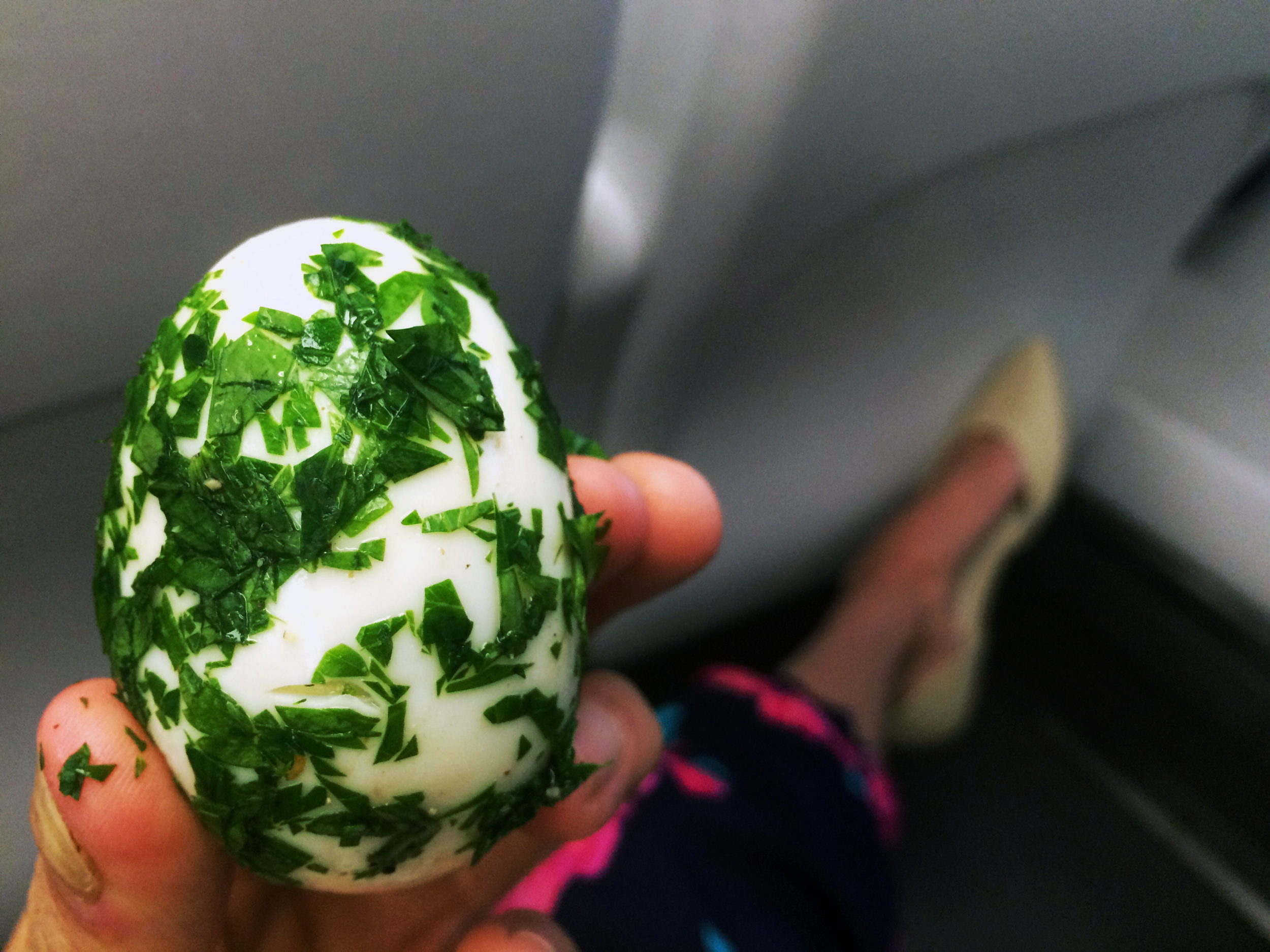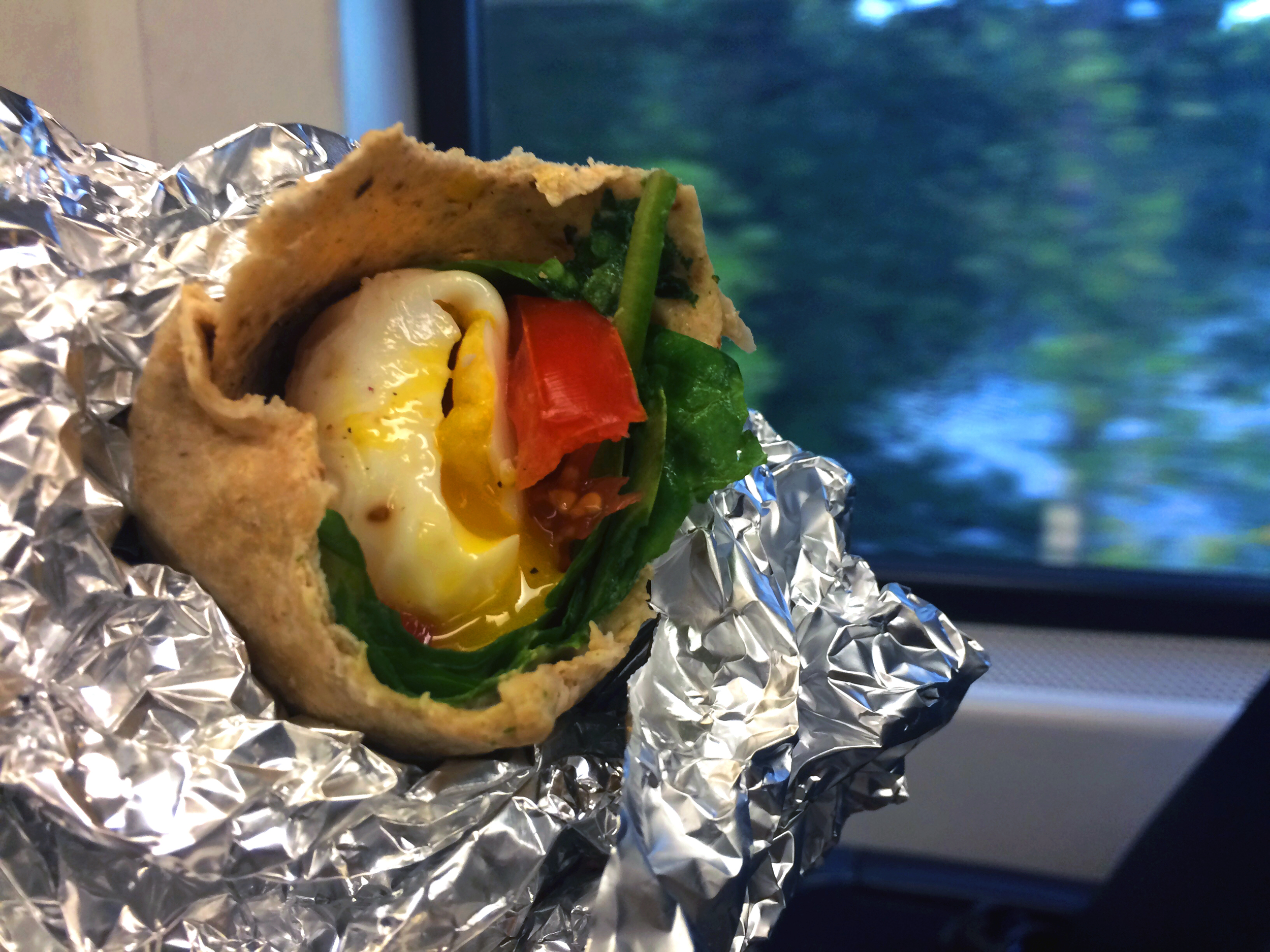 This is a photo of Jenna Morrison, the actress who played Debbie on the Amanda Show. She has a son and may or may not run a fragrance store called 'Scentsy'.
How does this make you feel? Do you believe that if she had chosen a love greater than eggs that her life may have amounted to more? Weigh in below.