The Feat of the Seven Fishes
Most Italian families celebrate the impending birth of baby Jesus by honoring La Vigilia, 'The Vigil', which is probably referred to as the 'Feast of the Seven Fishes' by your neighbor Connie. Wikipedia cites that the fundamental purpose of this all-fish meal is that of a fast in abstaining from red meat until Big J arrives. My mother does not comprehend phrases that intertwine the words "holiday", "less", and "food", thus our annual Vigilia is paradoxical spectacle.
I crunched the numbers on my banana phone and calculated that the survival rate of a Lardashian Christmas Eve dinner is slightly above that of the Black Death. It's a pescetarian marathon primarily comprised of Bacardi Razz cocktails and my mom's dirty jokes. We begin eating at 6 p.m. and call it quits around midnight when it's time to roll my aunt and her family out the door with leftovers, chanting in solidarity:
"We have to do less food next year."
Here's a run-down of the 2015 *Feat* of the Seven Fishes so that you can judge this group's conception of 'minimalism'.
Drank:
Mom's signature Cranberry Bacardi Razz cocktail, which she learned how to make when we visited the Bacardi factory on a family trip to Puerto Rico. This is the only thing that she drinks besides Malibu Bay Breezes.
Hors d'oeuvres:
Appetizers:
Soup:
Pasta:
Fish
Dessert
Let it be noted that this menu was intended for a group of six and not the herd of natural disaster victims sheltered inside of the Superdome that you were probably envisioning.
Cool cool cool. So the night started off in the standard fashion of a Lardashian holiday gathering. There was cute sibling picture-taking followed by the devastating reminder that our parents don't know how to pose without waving a puppet behind my head like a child portrait photographer.
Then my Aunt Sue and her daughter Jennifer arrived. Sue found a secret ball under her skirt, and mom rectified the situation because that's how friends of 40+ years deal with each other.
Hors d'oeuvres were hors d'served, appetizers were had, and three pitchers of mom's cranberry cocktail went missing somewhere along the way. This could explain why a piece of shiny tissue paper turned into the star of the party when we decided to take a digestive pause between pasta and the fish.
Meanwhile, I posed for my JDate profile photo with a complimentary Chrismukkah sweater that I received from Tipsy Elves before the adults opened their presents.
My aunt and my mother wet their skirts upon realizing that they gifted each other almost identical Lenox items because, again, that's how friends of 40+ years deal with other.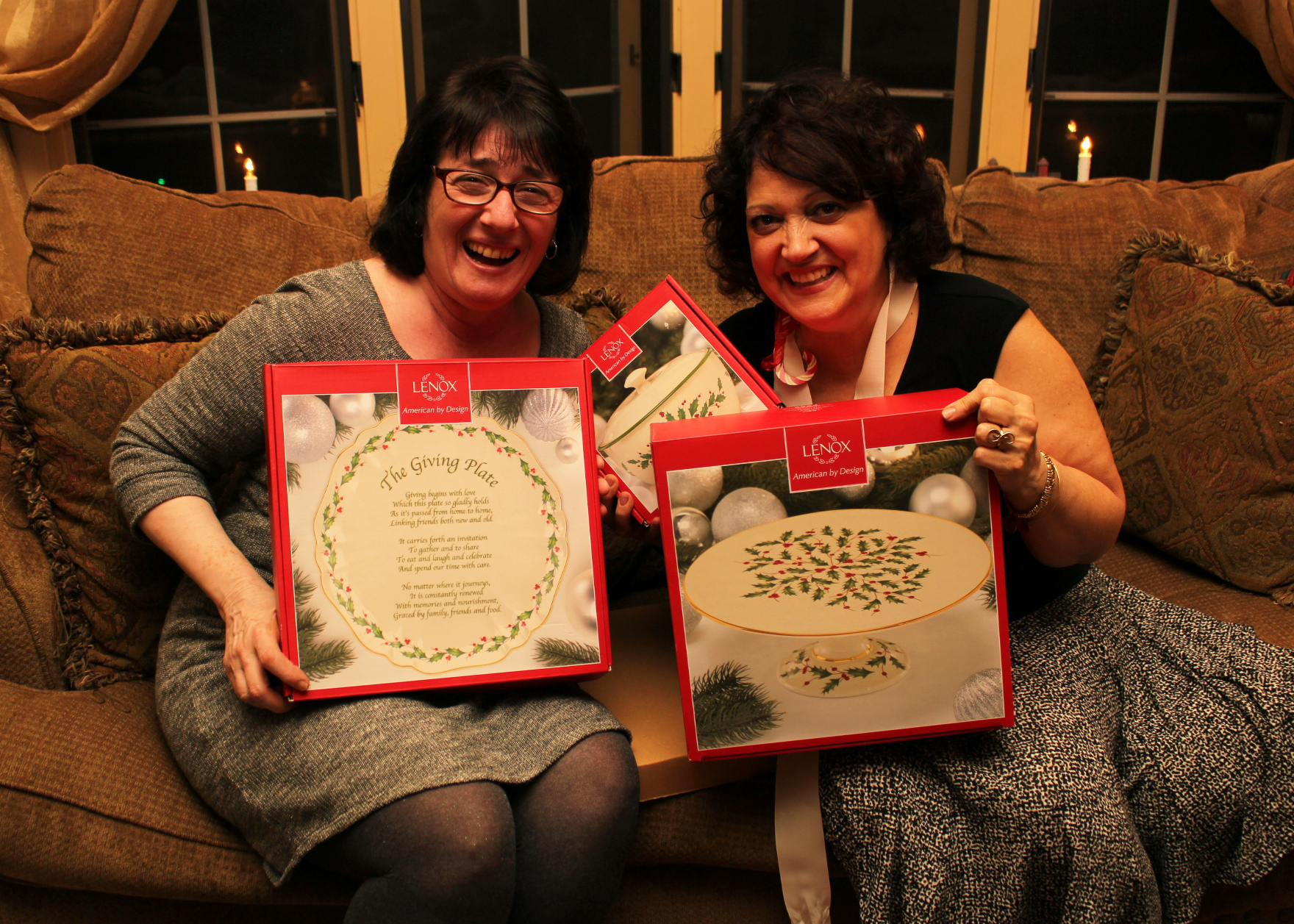 My camera was stolen as I helped prepare the main fish course with my dad. At this point, mom was on her fifth glass of Razz and found it amusing to harass Jennifer by lifting up her skirt whenever she had a hot flash.
Aunt Sue's son Dom and his wife Terri arrived just in time for the main course, which lasted all of ten bites. As we stared like dead fish out into the untouched bounty of seafood before us, Terri broke the silence with a poignant observation. "You know," she began. "If I didn't know that you all were Italian, I would have guessed that you didn't even start eating dinner yet."
And now for a recipe...
Mia's Scungilli and Calamari Citrus Salad
Get these things:
One 29 oz. can of scungilli (conch)
1/2 lb. of fresh calamari, heads and all (Don't be a wuss)
Three navel oranges
2 cups of black grapes, halved
One bulb of fennel, thinly sliced, fronds reserved
Three ribs of celery, thinly sliced
The juice of one lemon
1/3 cup Light Extra Virgin Olive oil
1/2 Tbsp Dried Oregano
Coarse Sea Salt
Freshly ground pepper
Then Do This:
Prep the Seafood
Drain the can of scungilli, and rinse and wash it in a colander
Bring a small pot of water to boil over medium-high heat. Once boiling, add the calamari to cook for 1-2 minutes so that it's no longer squiggly. Remove it from the pot and into a bowl to chill out while you…
Prep the Fruit
Halve your grapes
Skin two oranges, careful to remove all of the bitter white parts. Cut the oranges into thin slices. I found it easiest to hold them in my hand and carve into the center, but cut them on a board if you're not down with the prospect of chopping off your thumb.
Juice the remaining orange into a bowl as a base for the dressing.
Prep the Vegetables
Separate the fennel bulb from its long, hairy stem. First, halve the bulb to create a flat surface. Then slice it into the thinnest slivers that you're capable of achieving. Use a mandolin if you're in the same company of orange thumb-chopping phobia.
Skin the fennel fronds (I love the word FRONDS) from the stem and reserve them in a plastic baggie to use later as a garnish.
Cut each celery rib into thirds. Slice them longways in the same thickness as you sliced the fennel.
Make the Dressing
Whisk together the lemon juice, the juice of the orange, the olive oil, and the dried oregano.
ASSEMBLE!
Combine the scungilli, the calamari, the oranges, the fennel, the celery and the grapes in a bowl. Use your hands to delicately mix them all together. Pour the dressing over the top and mix once again to combine the fruits of your labor. Crank salt and pepper all over, mix it again, and crank at it one more time to ensure flavor distribution.
Let it marinate in the fridge for an hour.
Before plating, sprinkle your reserved fennel fronds (FENNEL FRONDS FENNEL FRONDS) over the marinated mixture and toss to combine once more. Drizzle more olive oil on top before serving to your can of sardines.
Scroll through the debauchery of our Christmas Eve: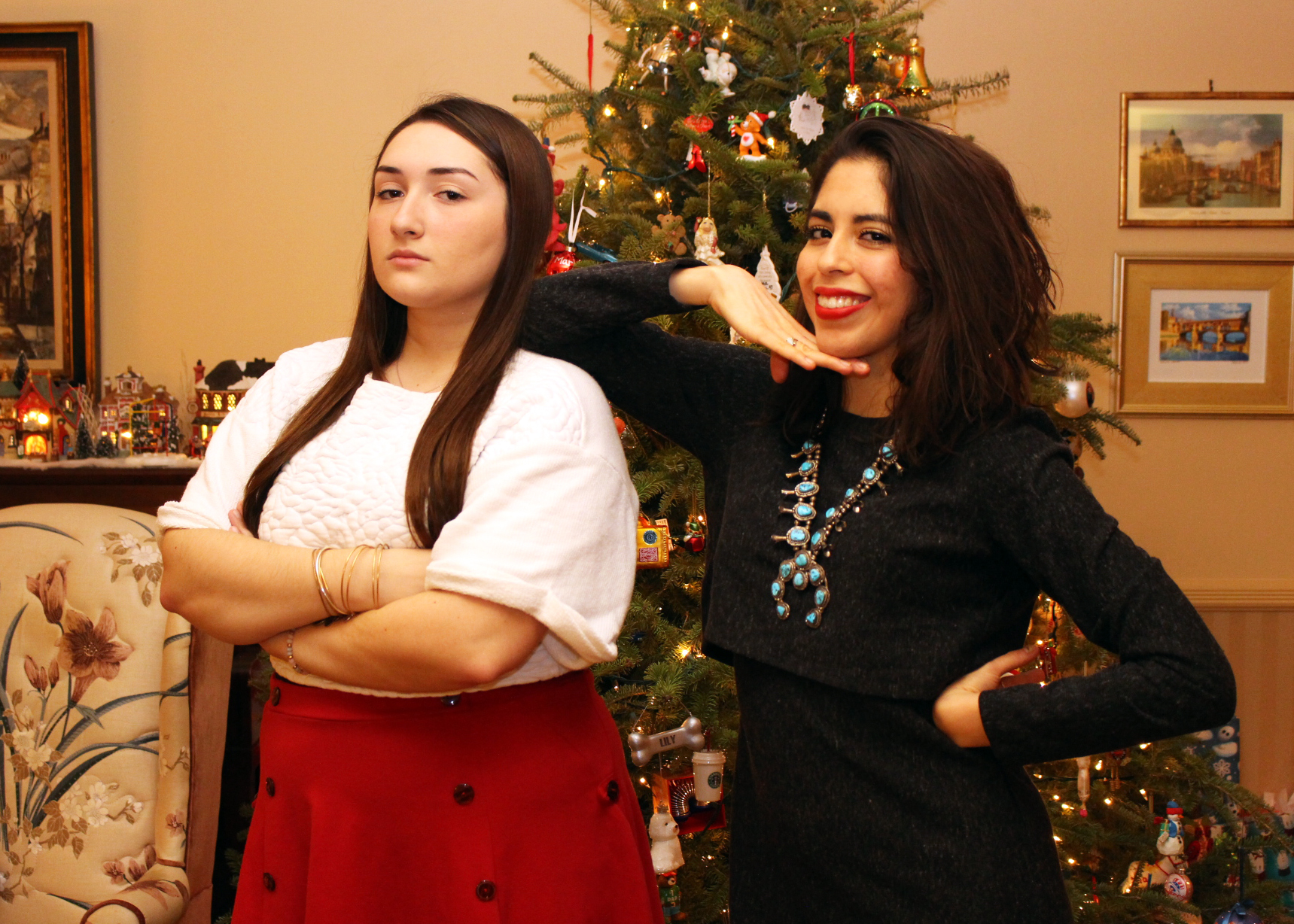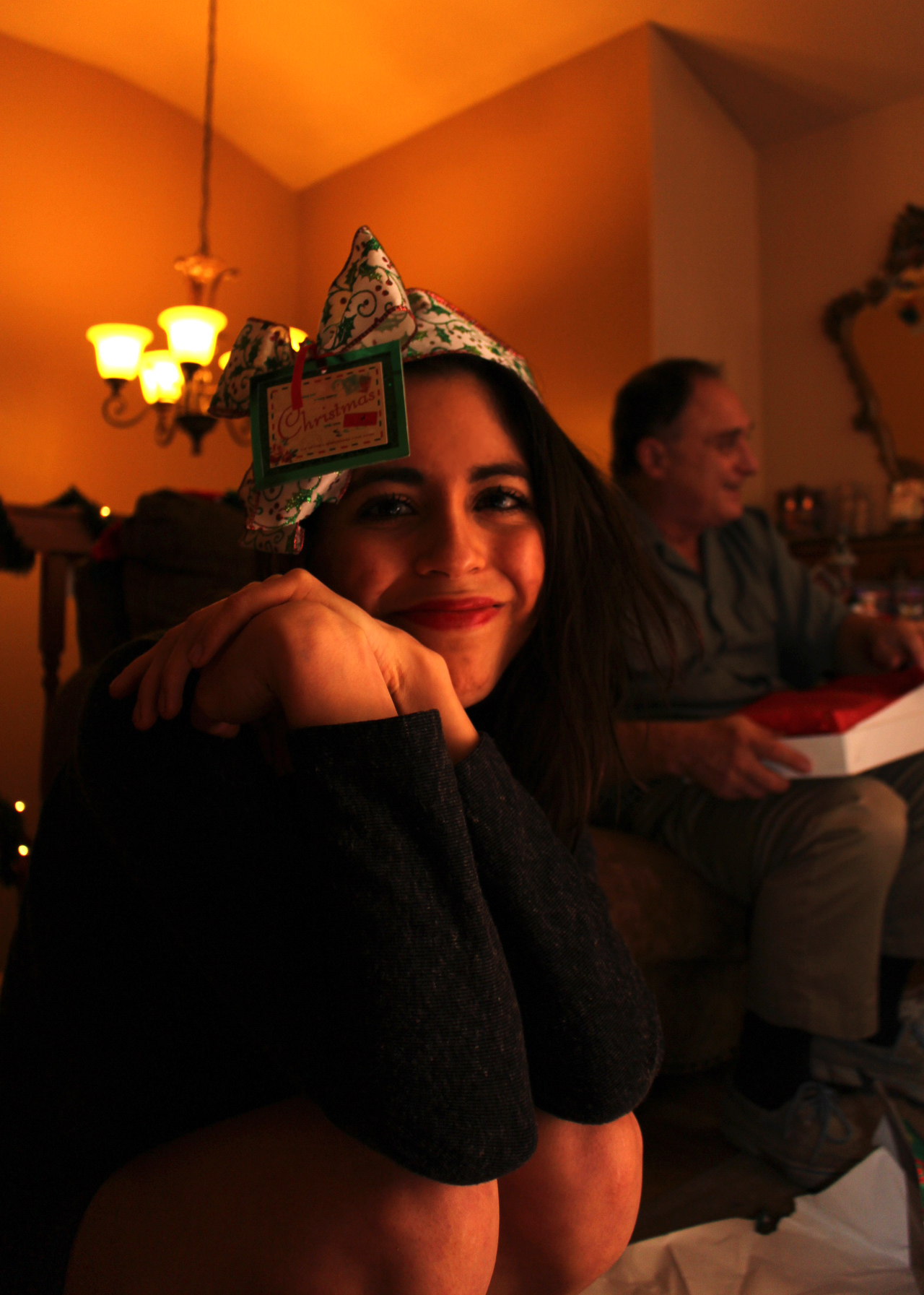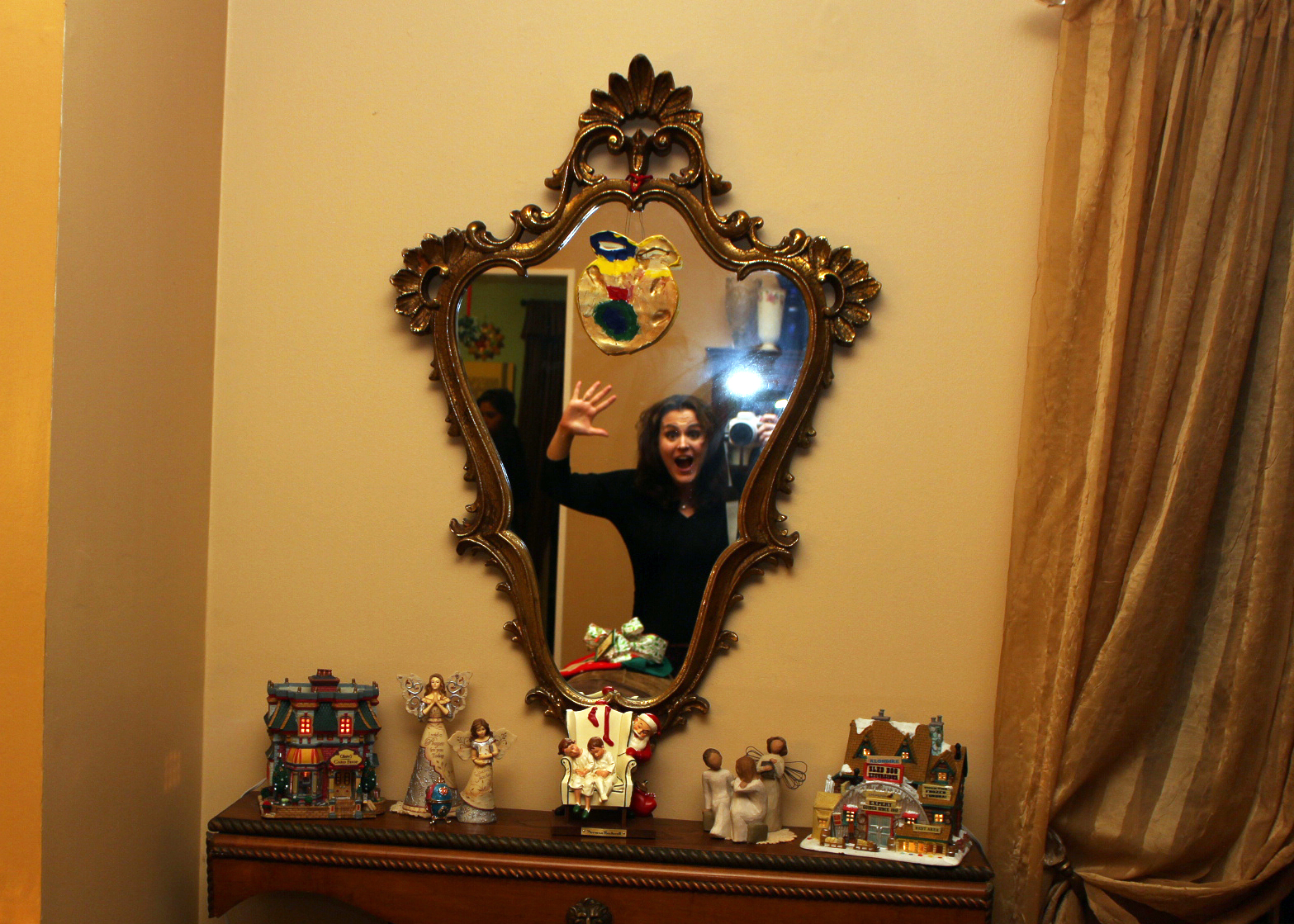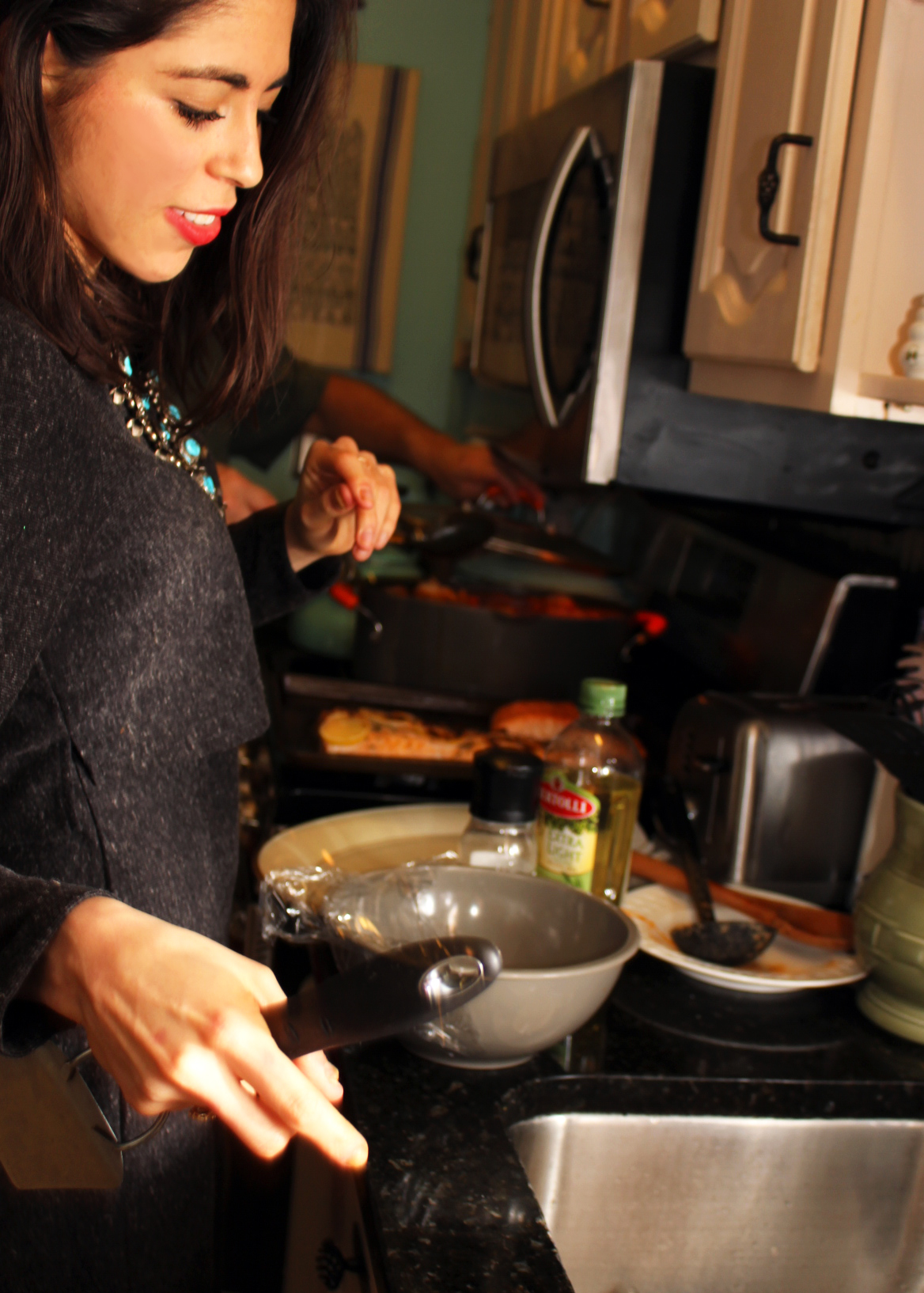 Analyze & Discuss:
Did we overdo it?